El próximo 27 de septiembre de 2013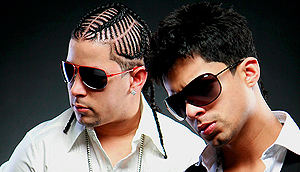 La capital dominicana albergará el concierto de despedida del dúo puertorriqueño Rakim y Ken-Y el próximo 27 de septiembre en el que ofrecerán los grandes éxitos de su carrera.
El dúo ofrecerá su actuación en el Hard Rock Café de la capital dominicana, según informó hoy en un comunicado, la empresa de relaciones públicas del evento, NewCorp.
José Nieves (RKM) y Kenny Rubén Vazquez Felix (Ken-Y), han decidido hacer una pausa en su carrera musical » para cada uno probar suerte con discos en solitario, explica la nota.
En este sentido, han tomado el concierto de Hard Rock Café Santo Domingo como la plataforma para encontrarse por última vez con su público antes del receso de su carrera como dúo.
Se espera que ofrezcan una compilación de los éxitos que han marcado la carrera de Rakim y Ken-Y con los mejores temas de las producciones Masterpiece, Commemorative Edition, The Royalty/La Realeza, The Last Chapter, When The Sun Goes Down y Forever, Cuando Te Enamores.
Entre ellos se encuentran éxitos como Te regalo Amores, Igual que Ayer, Y Quiero conocerte, Quizás, Ella me Hechiza, Dame lo que Quiero.
Rakim y Ken-Y, comenzaron como dúo en el año 2004 y entre sus logros figura, entre otros, una antorcha de plata, un antorcha de oro y una gaviota de plata en el Festival de Viña del Mar 2009, en Chile

Santo Domingo Live, el 09.09.13 / 10.30 a.m.
Envíenos sus comentarios
Sus Datos
Inscribirse para recibir alertas :
Agregar un comentario